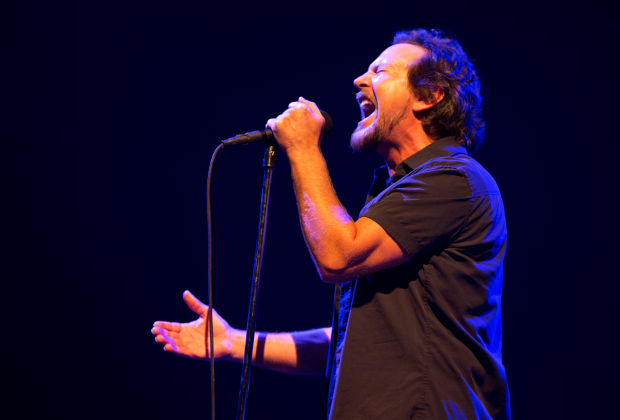 What a phenomenal show.
Pearl Jam had never been to the Quad-Cities, but the Seattle band more than made up for lost time Friday night as they electrified a capacity crowd of 10,800 at Moline's iWireless Center.
For more than three hours, the group — singer Eddie Vedder, guitarists Mike McCready and Stone Gossard, bassist Jeff Ament and drummer Matt Cameron — was transcendent, weaving a spell of charismatic and eardrum-decimating hard rock culled from the band's more than two-decade gold mine of classics.
The band's catalog has aged very well, still sounding vital and brilliant despite the years and trends past. It's probably not so surprising, given that Pearl Jam has always really been a full-force rock band, regardless of the trendy grunge moniker slapped on them upon arrival. Like vintage Who, Black Sabbath and The Rolling Stones, Pearl Jam still sounds terrific and contemporary, and, like those bands, they've managed to maintain their artistic integrity and magnetism as a live and studio act.
That was apparent last night as they wound through a Springsteen-esque journey of the mind, heart and body for a voracious assembly of fans, who wound up with a special treat — the band, for the first time, performing the 1996 album "No Code" live in its entirety.
That rare gem rolled out after a magical opening of "Elderly Woman Behind the Counter In A Small Town," which brought the crowd to its feet, where they remained throughout the evening, singing along with every word.
After the fun surprise of "No Code" — everything from the raucous "Hail Hail" to the tribal mesmerism of "Who You Are" to the ascendant "Present Tense," during which Vedder preached like a shaman to the crowd, the chords rising like incense as thousands of voices repeated its words like a prayer — the group jumped forward to 1998 for the soaring "Given To Fly," which launched into a volcanic chorus and lush, primal finale.
Framed within an exotic and earthy stage set — thorny branches hanging above them in a rough-hewn embrace, while hypnotic orbs bobbed like hanging jars full of fireflies — the band was commanding and powerful, led by the charismatic Vedder.
The hyper push and pull of "Corduroy" was set afire by Vedder's manic vocals, and the frenetic bass of "Evenflow" pounded through the speakers as its familiar chorus prompted an army of bouncing arms and fists through the air. And in the second set, as the sinister intro of "Jeremy" stung through the arena, the crowd burst up to sing along with the band's breakthrough hit.
Amidst a tsunami of sound, punctuated by McCready's spiky, whirlwind guitar and Vedder's messianic trek into the crowd amidst a frenzy of outstretched hands, "Porch" was a brilliant and explosive finale to the first set.
The second set began on a softer note, with Vedder solo on stage with only an acoustic, singing a song he had written about Moline and a request to a young girl in the crowd, before he wallowed into a dreamy, sparse cover of John Lennon's "Imagine" that offered a hopeful, resonant note, one of many memorable moments in an evening ripe with them.
It's been a long time for Pearl Jam to play the Quad-Cities, but one would hope the next time will arrive much sooner. As Vedder said, as he looked over the massive crowd, a huge smile on his face, "We've never been here before, so this is kind of like a blind date. But it's like showing up for a blind date and she's really hot. Wow."
Wow, indeed.
Comments
comments