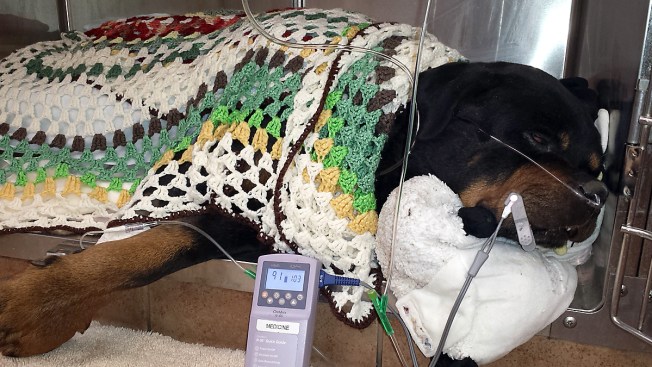 QUEENS, N.Y. (WABC) —
An injured dog is being treated at a Queens veterinarian after the Rottweiler was found on a busy Queens street after apparently being tossed from a vehicle.
The dog was found at Cypress Avenue and Vermont Place at around 10:30 p.m.
According to witnesses, someone wrapped the dog in a plastic bag and threw her out of the window of the moving car.
They stayed with the badly inured dog, and firefighters who just happened to be passing by also stopped to help. Eventually, a Good Samaritan took the pooch to BluePearl Veterinary Partners in Forest Hills for treatment.
According to BluePearl, the approximately 6-year-old female Rottweiler, named Dasher by the staff there, is receiving oxygen therapy, heat support, IV fluids and anti-seizure medication.
Officials there are running a gamut of tests to learn more about the dog's injuries. Even worse, they say she has a large abdominal mass, which is also being tested and could be cancer. They wonder if that's the reason she was abandoned.
Police are now investigating as Dasher's chances of survival remain unclear. The firefighters were considering adoption.
Anyone interested in donating to Dasher's medical care should contact BluePearl Veterinary Partners at (718)263-0099. Any funds not used for Dasher will be donated to Frankie's Friends, a 501(c)(3) non-profit organization.
Comments
comments